Nicola Hadaway
2020-12-02T15:23:36+0000
Paul played at our wedding ceremony and we can't recommend him highly enough. He was extremely flexible as we had to cancel our original wedding date due to Covid. Everybody commented on how good he sounded. A great addition to a great day 🙂
Steve Hardy
2019-06-09T18:42:15+0000
Paul performed at our wedding ceremony/ reception and did an amazing job. The few requests we had were hit spot on and all the guests were very complementary of Paul's playing. A great performance that really added to the atmosphere of the day - Highly recommended!
Vikki Brotherton
2016-08-02T19:34:18+0000
Fantastic band. Watched them perform this evening at Kelling Heath and it was absolutely refreshing to see a band that was both playing 'old school' & 'nowadays' music. My 8 year old daughter and her cousins ( 8, 6 & 4) thought they absolutely rocked & were 'totally cool' Well done Paul Hill Guitarist! Xx
Paul played at both our wedding ceremony and reception. It went down really well. We both thoroughly loved it and the guests said it was a really lovely touch. He was able to play our requests brilliantly despite some of them being new to him.
Paul Hill and Claire Barker played at our wedding reception this weekend. Paul on the solo guitar during dinner was the perfect background music, and the addition of Claire's beautiful singing voice for the evening got the dancefloor going! A great mix of music and they were very accommodating to requests. Claire's ability to do Ed Sheeran, Sing was my highlight! Thanks again guys for an awesome night!

Catherine and Nick xxx
Thank you again for playing at our wedding. Superb! X
Hi Paul,

Brilliant! Absolutely beautiful music!! We cannot thank you enough for playing at our wedding. I hope you managed to have a drink and thank you so much for playing such beautiful music on our day. Des' ree sounded beautiful!

Hope you got to the festival on time!

Thanks again!
Hi Paul,

Just wanted to say thank you so much again for yesterday! It was such a magical day and we are so pleased that you were a part of that! So many people commented during the night on how brilliant you were! So thank you again! It was everything we wanted and more!

Many thanks
"Laura White sang with supreme polish, supported by guitarist Paul Hill who almost made his instrument talk."
Hi Paul,

Just a quick email after the dust has settled to say a big thank you for playing at our wedding. You were everything we hoped you'd be plus more! Everyone at the wedding thought you were outstanding.

Thanks again, please pass on our thanks to the other two, and good luck with everything in the future.

All the best
You guys were absolutely awesome – we could not have hoped for a better band. You made the evening! Everyone was up on the dancefloor busting out some moves!
Thank you so much for making our perfect day even better than we could of imagined. You guys really did an amazing job!!

I will ask Mrs Watts to write a testimony on your web page as I'm sure she will have lots of nice things to say!!

Please also thank Paul for being there throughout the whole day and his professionalism! It wouldn't of been the same without him.

…Now at the airport waiting for our flight to the Maldives. Can't wait…!!! ☀️

Thanks again, you were amazing!!
In the chaos of late Saturday night, not sure that I thanked you all properly. Everyone had a really good night and the first dance and the set list were perfect. We were really pleased with how the whole evening went, and your band were a major contribution to that. Please pass my thanks onto all of them.

Your new guitarists work was stunning.

Thanks again
Thank you for the great guitar music played during the ceremony.

Best wishes
Thank you again so much for playing at our wedding, you were fantastic!
EDP Destination Swing Review
A review from the EDP newspaper after hearing us at the Dereham Jazz Society in Lyng.

A world standard music masterclass

Take two guitarists, add a tenor and you might wonder what to expect. But the enthusiastic fans at Dereham Jazz Society knew it would be a magical night of blissful improvisation in perfect harmony. The tenor was, of course, one of the UK's finest sax players and the two guitarists are amongst the best you will hear this side of New York. 'Destination Swing' offer sophisticated playing – cool in jazz lingo – which brought appreciative applause for every finely constructed solo.

Starting his career on classical guitar, Paul Hill is, today, the author of the definitive guitar training book – and an examiner for the London College of Music, in much demand for his training work. Jasper Smith is the perfect partner: inspired to take up guitar during the punk movement of the 70's, his later playing influences include the giants of jazz guitar. He is now an examiner at the London College of Music and has two pieces in the classical syllabus for the college. Both can do impossible things on a guitar, often playing bass lines, rich chords and soloing simultaneously.

The heart of this trio is Martin Eaton, possibly our greatest home-grown tenor sax jazz star: what a striking tone and fluidity. On some numbers, he added his voice, not a traditional tenor sound but a soft mellowness that Michael Bublé might admire.
One question remains; how can an intro to creative jazz also be a masterclass?
Apart from the unique chance to chat informally with a group of other guitar teachers, the lunch was enhanced by some excellent music performed by Norwich teacher Paul Hill – playing his own effective arrangements of Jazz Standards. I think everyone agreed he played beautifully and helped create a great atmosphere for lunch.
Dear Paul

We would like to thank you for playing so beautifully for us at Saturday's party for Hannah and Brad. The music helped to set the tone for what turned out to be a very happy day for us all; somebody commented that it gave a very continental feel to the proceedings.

Inevitably, I had little opportunity to properly listen to your musicianship, but perhaps that will happen on another occasion when I can really give your playing the attention it clearly merits!

Thank you for your professionalism and contribution to a very important day for our family

Best wishes
Hi,

I just wanted to say thank you to you and the guys. Working with you has been an absolute pleasure and we are so pleased that you could provide part of the soundtrack to our wonderful day. You guys looked and sounded brilliant!

Many thanks,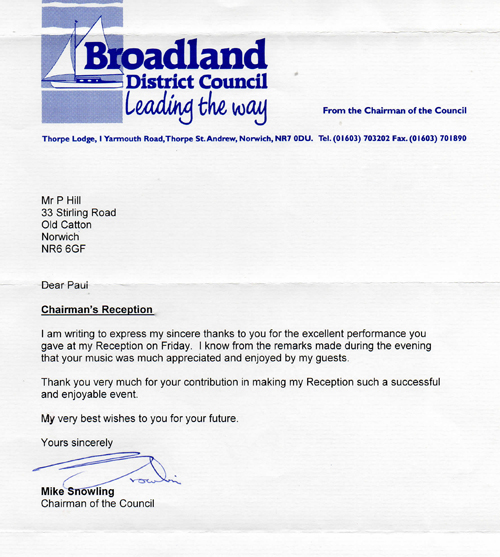 Hi Paul,

Just landed, or so it feels having been through a bit of a whirlwind since the wedding. Just wanted to say a big thankyou for playing on 27th and apologise for over-running, we were all just having a good time and one thing led to another!

Hope all is well, busy no doubt with lots of weddings?
Thanks again,
Hi Jasper, Martin and Paul

just a quick note to thank you for a great show last Friday – spot on!

We will be able to donate £200 to The Benjamin Foundation – every little helps!

Hope your season goes well.

Very best wishes
Hello there Paul

I hope an E-Thank you is all right.
We are nearly back to our usual selves again after Saturday's party.

A big Thank You to you and the others for your input. We very much enjoyed your lovely back ground musik and I did notice that you played "midnight in Moscow or Moscow Nights".
Which ever it's called, it's my absolute favorite.

So many thanks again, hope to listen to you again somewhere.
Hi Paul,

Just wanted to thank you again for Sunday.

Chris & I had a great day & our friends and family have commented on how lovely it was to have you playing & how much they enjoyed you being there.

Please pass on our thanks to the lads & I hope to see you soon.

Kind regards,
Hi Paul

Just a little note to say thank you for Saturday. We had a fantastic time and everyone loved the music!!! Thank you so much.

We'll definately be recommending you to any future husbands and wives…or just for celebrating!

Thanks again!

Kind Regards
Hello all at Destination Swing

Just want to say a big 'THANK YOU!' for Saturday night. I know everyone was inevitably rabbiting away 19 to the dozen, but you were just what was wanted!

So – well done and many thanks, sorry I missed seeing you before you left…..kept getting side-tracked!

Very best wishes